Security
Advanced Security Protection
BEA is dedicated to providing you with the highest level of security possible, so you can conduct your banking online with total peace of mind. To ensure your optimal protection and satisfaction, Cyberbanking offers security features that are technologically advanced and extremely easy to use.
Additional verification for designated transactions
You are required to use either a one-time password or digital certificate to conduct the following transactions:
Fund transfers to non-registered BEA accounts in Hong Kong or China
Fund transfers to non-registered accounts at other local banks in Hong Kong
Bill payments to merchants, except when the receiving merchant falls under the "Government or Statutory Organisation", "Utilities", "Education: Primary or Secondary School", or "Education: Post-secondary or Specialised Institution" categories
Set up of scheduled instructions or templates for the above-mentioned transactions
Access to Online Investment Services#
Any new transaction types prescribed by the BEA from time to time
#Online Investment services include Stocks, Unit Trusts, Linked Deposits-related services, eIPOs, and FX/Precious Metal Margin Trading services)
1.One-time password
An SMS containing a one-time password will be sent to your registered mobile phone when you perform a designated transaction. To complete the transaction, simply enter the one-time password on the Cyberbanking webpage.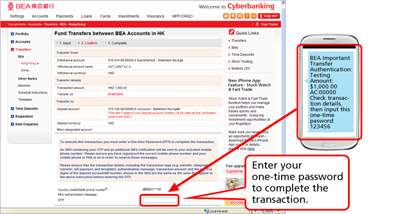 2.Digital certificate
Alternatively, you can complete a designated transaction by using a digital certificate stored on your Hong Kong Smart ID Card or USB token.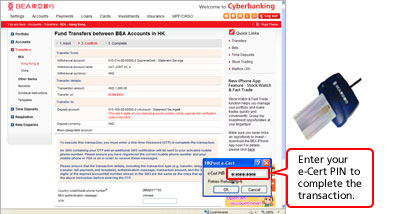 Moving Number Keypad
An alphanumeric PIN, which consists of a combination of numbers and letters, and a moving number keypad - further ensures your ongoing security.