Latest Promotion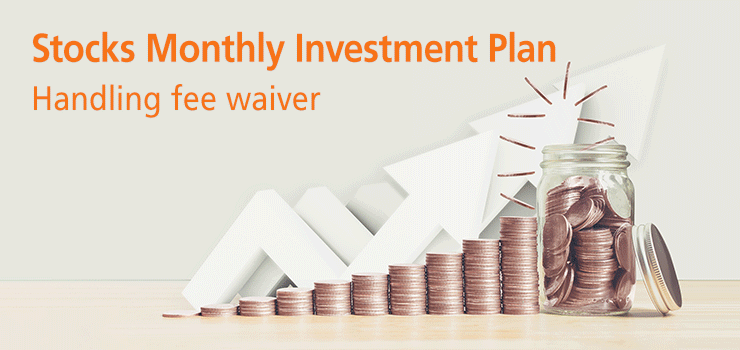 Product Features
Low Investment Amount

Monthly investment amount as low as HKD1,000 per month.

Low Handling Fee*

Handling fee is only 0.25% of the investment amount per month, with minimum HK$30 for each stock, including but not limited to commission (brokerage fee), stamp duty, trading fee, transaction levy, and stock settlement fee, etc.
Please refer to our Bank Charges tables for more details.

*Handling fee is waivered throughout the Promotional Period.

Flexible Investment

You can change your monthly investment amount or monthly investment portfolio without charge.

Dollar Cost Averaging

By applying the Dollar Cost Averaging investment method, you can purchase more shares of a particular stock when the price is low and less shares when the price is high using a fixed monthly investment amount, thereby minimising the short-term impact of price fluctuations.


Risk Disclosure
Investment involves risks. The prices of securities may move up or down, and may become valueless. There is an inherent risk that you may incur losses rather than gain profit as a result of buying and selling securities.
Information contained herein is for reference only. It does not constitute any offer, solicitation, or recommendation for the purchase or sale of any investment products or the provision of investment services.