Green and Sustainable Products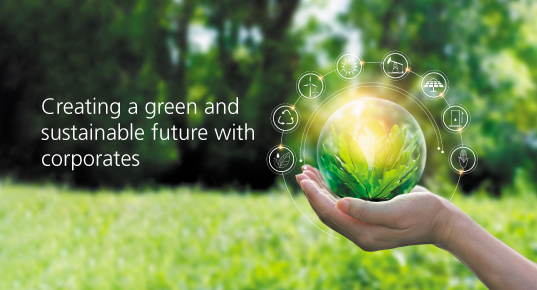 BEA strives to be the Green Partner of Choice for corporates. Whether your company is developing green projects, or aspires to achieve long-term sustainable growth, we at BEA offer all the desired loan and deposit products to help you reach those goals. Together we can create a greener and more sustainable future!


Green Loans


Green loans can support your various green projects, such as improving energy efficiency, developing renewable energy, green buildings, etc.. These loans can finance or refinance (in whole or in part) companies and projects which are in the designated "Green Sectors" and adhere to Green Loan Principles1.

Sustainability-linked Loans

Loan terms are associated with pre-defined sustainability-linked targets, such as annual carbon emission reduction, annual employee training hours, etc.. Corporates will need to follow Sustainability-linked Loan Principles2, with regular monitoring through progress reports.

Product Feature:

Preferential rate granted for different green projects.

Product Feature:

Fixed financial incentives for achieving particular sustainability performance targets.

✓ Enhance your corporates' green and sustainability image
✓ Integrate sustainability into business strategy to align with your corporates' long-term vision
✓ Grasp green business opportunities through green projects
How to support

sustainable

development

through business'

daily financial

activities?

Green Deposit

Corporate customers who make green deposits can enjoy fixed interest rates while supporting accredited green projects in manufacturing, renewable energy, and other industries. For details on the utilisation of funds related to BEA's Green Deposit, please click here.

Product Feature:

No separate Green Deposit minimum deposit balance

Can be applied all year round (subject to limit availability)

Act now to start building our green and sustainable future together!

Contact your Relationship Manager
For our latest sustainable strategy, please visit our webpage.
1 Green Loan Principle (jointly published by Asia Pacific Loan Market Association, Loan

Market Association & Loan Syndications & Trading Association
2 Sustainability-Linked Loan Principles (jointly published by Asia Pacific Loan Market Association, Loan Market Association & Loan Syndications & Trading Association)