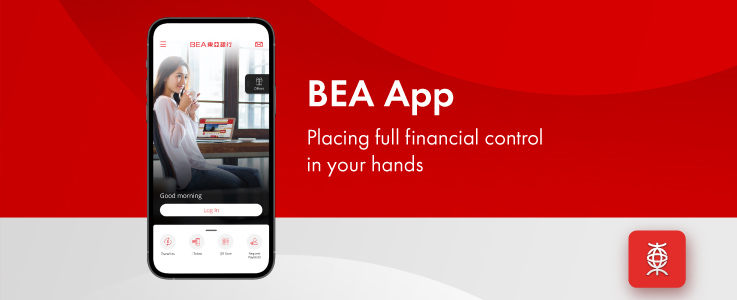 We've taken the new BEA App to the next level. We've packed in all kinds of amazing new features and capabilities. And set it all in a new user-friendly interface design, with a ground-breaking lifestyle platform, and enhanced signature functions.
The app's standout new platform, the i-Planner, is the first virtual planner of its kind and unique in the market. It starts with a smart travel hub to help you integrate all your preparations for trips abroad, and all your essential financial arrangements. And the best part? It's so easy you can manage everything with just a few taps!
Enhanced UX Design
Intuitively simpler to use. Delivers a smoother and more streamlined user experience
Star Feature: the i-Planner
A virtual hub that integrates your day-to-day living needs with financial transactions
Upgraded Signature Features Align with all your needs:
i-P2P

for instant peer-to-peer transfers
Empowered by Big Data
Makes it more intelligent and personalised, so you get offers and services that are just right for you and your needs.
The New BEA App is available as a free download now!
Not yet activated Mobile Banking?
1. Simply search for "BEA" on the App Store or Google Play™

2. Open the app and activate with your Cyberbanking or credit card details

3. You are ready to manage your money & planning instantly