What's New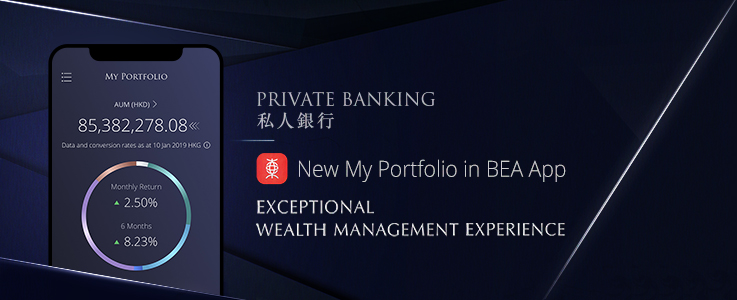 My Portfolio
My Portfolio is a whole new level of intelligent tool in the BEA App which is exclusive for you. Your portfolio is presented with our enhanced interactive data visualization tools, so you can manage your wealth any time with full control.
Portfolio Overview
Smart data visualization
Multiple Portfolio Base Currency selection
Past 6 months and current year with our graphical mode
Portfolio asset distribution of the last 6 months
English and Traditional Chinese are both available
Transaction Details
Investment portfolio including Option & Derivatives Contract, Structured Products and others at market value
Securities pending settlement display
How to use?
Need help? Our brief tutorial will show you how to use the My Portfolio feature: click here
My Portfolio is available in our New BEA App!
Supported Operating System
iOS platform with version 10.0 or above
Android platform with version 6.0 or above