Reverse Mortgage Programme
Reverse Mortgage Programme special features
Apply1 if you're aged 55 or above and own a residential property in Hong Kong that held in your own name or a limited company, incorporated in Hong Kong (wholly and directly held by the borrower)
Remain as the property owner and can continue to live in the property for the rest of life.
Choose to receive monthly payouts over a fixed payment term, or for life
Borrow lump-sum loan(s) for specific purposes when needed
You can also receive a cash reward of up to 0.4% of the property and policy value by submitting a reverse mortgage application on or before 31st December, 2022, and successfully drawing down the loan by 31st January, 2023.

Terms and conditions apply; please contact any of the designated branches below or Mortgage Loans Hotline at 3608 8686 for details.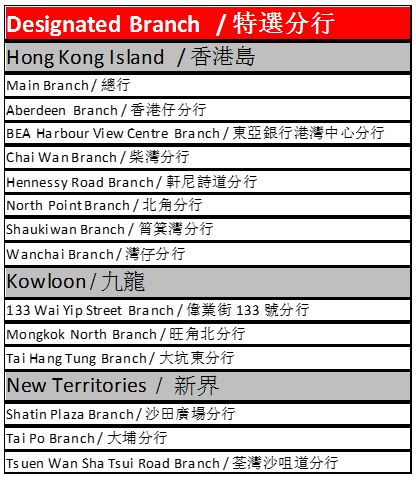 The website auxiliary function is being optimized. If you encounter difficulties in using it, please contact contact any branch nearby or call 36088686 and we will provide appropriate assistance.
| | |
| --- | --- |
| 1 | Mortgage loans will only be offered to customers who meet the eligibility criteria for the Reverse Mortgage Programme set out by HKMC Insurance Limited ("HKMCI") from time to time. The relevant terms and conditions are subject to the announcement and final approval of the HKMCI. For details, please contact a BEA representative. |
| Note: | The above information is for reference only. All applications are subject to BEA's credit requirements and final approval. BEA reserves the sole right to amend or alter the related terms and conditions at any time without prior notice. |