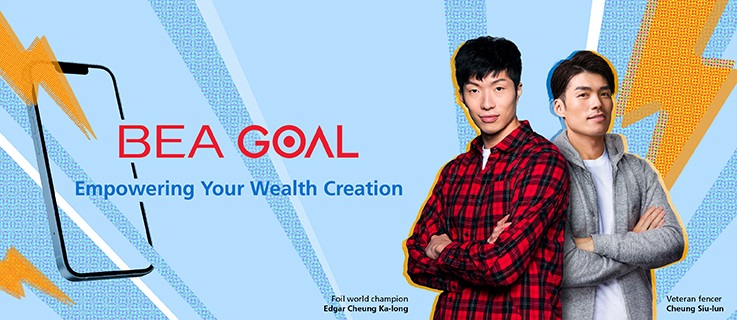 BEA GOAL is a fully digital all-in-one account. All you need is the BEA App for your daily banking needs to be met and more.
With no minimum balance requirement, preferential time deposit rate offers, our brand new smart Fund Portfolio Builder, as well as the instant-approval BEA GOAL Credit Card, you can earn while you tap away!
Unlock your wealth creation power with an array of deposit, investment, insurance, and spending rewards, and reach your financial goals independently!
Unlock the power of wealth creation

Earn more interest with just a few clicks

Set up a time deposit via the BEA App and enjoy preferential rates

Minimum deposit as low as HK$1,000 to help you start your savings plan


On-the-go smart fund assistant

The all-new Fund Portfolio Builder provides access to professional investment advice by shortlisting a selection of suitable funds listed by asset type and past performance

Helps you build a personalised fund portfolio based on your investment objective, preferred investment time horizon, and risk tolerance in 5 simple steps

Subscribe to up to five funds at once

Subscription amounts start from as little as HK$1,000, allowing you take small steps to achieve big changes


Hassle-free mobile payment

Add your BEA GOAL Debit Card to the UnionPay App for an enhanced and hassle-free mobile payment experience. Make contactless payments at merchant stores in Hong Kong, Mainland China (including the Greater Bay Area), and any other merchants around the world that accept UnionPay QR code payment


Eat, shop, play, and earn rewards

The instant-approval BEA GOAL Credit Card comes with a variety of online shopping, entertainment, travel, dining, transportation rewards, and priority booking for the hottest concerts in town
Pre-register to grab all the benefits
BEA GOAL will be launched in August. After successfully registering as a BEA GOAL customer and opening an account, you will be:
Reward 1: Entitled to early bird and welcome rewards of up to HK$500*
Reward 2: Automatically entered into the GOAL GO GO lucky draw for a chance to win HK$10,000*
New customers refer to customers who have not maintained any all-in-one account with BEA.
Other customers refer to customers who are holding a BEA credit card or a deposit account only.
*The reward will be awarded in the form of BEA Credit Card Free Spending Credit.
Notes:
The promotion period is from 22nd June to 28th August, 2022. Offers are subject to Terms and Conditions.

"New customers" refer to customers who have not maintained any accounts with BEA within 12 months prior to the registration date.

BEA GOAL Pre-registration is only applicable for customers who are holding a BEA i-Account. For customers who are holding other all-in-one accounts with BEA, please contact your dedicated Relationship Manager or vist any branch for more details of BEA GOAL.

For BEA GOAL Pre-registration Welcome Reward Promotion Terms and Conditions, please click here.
Investment involves risk. Before making an investment decision, investors should refer to the relevant investment product offering documents for detailed information including the risk factors. This page has not been reviewed by the Securities and Futures Commission in Hong Kong.
To borrow or not to borrow? Borrow only if you can repay!