Apply Now
My Rewarding Experiences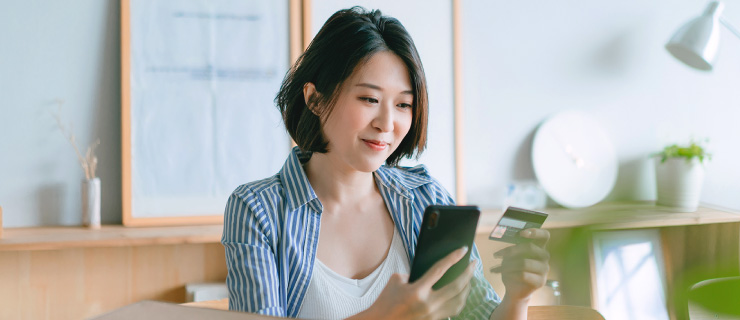 Discover more fabulous rewards with BEA credit cards
A selection of card privileges on online shopping, travel, dining and concert priority booking for an unparalleled lifestyle experience!
Your choice on your rewards
Key Facts Statement/ Schedule of Fees and Charges


Up to a 3.4% cash rebate4 on online spending all year round, with the i-Titanium Card
World Mastercard Card

Year-round offer of HK$5 = 1 Mile5; or
Unlimited 6X Bonus Points (2.4% cash rebate) on all local dining and foreign currency spending (includes overseas online spending)
A broad range of privileges on online shopping, travel, dining and entertainment, including:

A 10% rebate on local dining outlet/bakery/fast food restaurant/coffee shop payments made through Apple Pay/Google Pay6
Priority booking for concerts

Access to over 1,000 airport lounges worldwide
Indulge more with BEA Mall
Offset your local/overseas spending with Bonus Points by using the Mastercard Pay with Rewards function. Set up auto-redemption for a hassle-free shopping experience
View your Bonus Points balance instantly, and use your Bonus Points or a combination of points plus cash to redeem vouchers, and other hot items
Earn Mall Coins by completing specified tasks within the BEA App, and redeem e-vouchers instantly
Access to exclusive limited time deals
4Subject to the Terms & Conditions of the BEA i-Titanium Card i-Dollar Rebate and Cash Rebate
5Cardholders will earn an extra 0.6X Bonus Points for all eligible spending, 8 Bonus Points convert into 1 mile. For details on eligible spending transactions to earn standard Bonus Points, please refer to the Bonus Gallery Terms & Conditions
6Available under the BEA Days – Mobile Payment programme. Cardholders are required to register for the programme in order to enjoy the rebate offer. Local dining outlet payments made through Apple Pay/Google Pay counts as an eligible transaction only when made with a BEA World Mastercard Card by a holder of a Supreme account. The promotion period is from 31 May to 30 September 2021. Offers are subject to their relevant Terms and Conditions
All photos are for reference only.
To borrow or not to borrow? Borrow only if you can repay!