Apply Now
Investing for My Future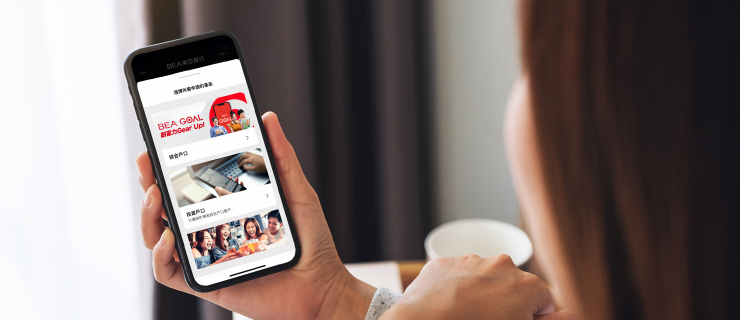 Open an All-in-one and an Investment Account with one app
Banking on the go is the key to taking control of your finances! Access your account and manage your day-to-day finances with our mobile apps. Why wait in a queue when you could be chilling with friends?!
Manage your investments with one app
Live chat with one-on-one assistant
The Supreme Assistant and BEA Flash Live Chat are available to help you with any questions you may have.
You can count on the Supreme Assistant to help you with all your financial and banking transaction enquiries at the i-Financial Centre3, including account related services, account opening via digital channels
3For the service hours of i-Financial Centres, please click here.
All photos are for reference only.
Important Notice:
Investment involves risk. Before making an investment decision, investors should refer to the relevant investment product offering documents for detailed information including the risk factors. Investors should not make an investment decision based solely on this page. If investors are in doubt, independent professional advice should be sought.
Linked deposits are structured products involving derivatives.
The prices of securities fluctuate, sometimes dramatically. The prices of securities may move up or down, and may become valueless. Losses may be incurred rather than profit made as a result of buying and selling securities.
The risk of loss in leveraged foreign exchange and precious metal trading can be substantial. You may sustain losses in excess of your initial margin funds.
The information provided in this page is intended solely for informational purposes and does not constitute an offer, solicitation, invitation, or advice to subscribe to any securities or investment products.
This page has not been reviewed by the Securities and Futures Commission in Hong Kong.
For distribution of investment products: In respect of an eligible dispute (as defined in the Terms of Reference for the Financial Dispute Resolution Centre in relation to the Financial Dispute Resolution Scheme) arising between BEA and the customer out of the selling process or processing of the relevant transaction, BEA is required to enter into a Financial Dispute Resolution Scheme process with the customer; however, any dispute over the contractual terms of the product should be resolved between the third party service provider and the customer directly.