Responsible Business
Growing Our Business Responsibly
Upholding the highest standards of governance
We at BEA are committed to upholding the highest standards of corporate governance and acting in an accountable and transparent manner. We believe such commitment is vital in fulfilling our duty to shareholders and ensuring that the interests of diverse stakeholders are balanced.
Creating a sustainability-conscious organisation from the top-down

Our Board-level ESG Committee oversees the Bank Group's ESG performance, particularly in regard to strategy and reporting. For more information, please refer to the ESG Committee's Terms of Reference.
Reporting to the ESG Committee is the ESG Steering Committee ("Steering Committee"). Chaired by Mr. Brian Li, Co-Chief Executive, the Steering Committee comprises General Managers of divisions that play a key role in BEA's ESG performance. Among its duties, the Steering Committee is responsible for driving ESG strategy development as well as ESG target setting and performance review.
BEA's ESG Work Group comprises Department Heads selected by the Bank's General Managers to drive the implementation of strategies set by the Steering Committee, and to identify ESG risks and opportunities.
Further details on the Bank's corporate governance practices and policies are disclosed in the Corporate Governance section of this website and the Corporate Governance Report of the Bank Group's Annual Report.
A robust approach to risk management
The Group has also established comprehensive risk management procedures in line with the requirements set out by the Hong Kong Monetary Authority ("HKMA") to identify, measure, monitor, control, and report on the various types of risk that BEA faces, including credit risk, market risk, liquidity risk, and operational risk, and, where appropriate, to allocate capital to cover those risks.
To reduce the impact of our business activities on the environment, BEA has developed a roadmap for green and sustainable banking, which is under implementation, together with a plan to address ESG risks, particularly climate change risk. Climate-related risk factors have been incorporated into ESG risk assessment criteria for BEA's corporate lending, and we will build on these initiatives to develop our green banking business.
Investing responsibly
BEA has issued a Responsible Investment Statement, evidence of ESG's evolving influence in the Group's decision-making processes:
We, at The Bank of East Asia, Limited, understand the importance of sustainability to our society.
As a responsible investor, we are committed to integrating environmental, social and governance factors into our investment decision-making process.
We endeavour to achieve long-term financial returns while supporting the sustainable development of society.
Promoting sustainability in our supply chain
We are committed to working with suppliers that showcase best practice, while encouraging others to develop and demonstrate improvement within these fields. Our suppliers are required to comply with our Supplier Code of Conduct, which is embedded within our procurement process. In addition, our Group Human Rights Policy, applicable to our suppliers, aligns with the United Nations Guiding Principles on Business and Human Rights.
BEA prohibits slavery and human trafficking in its supply chain. Suppliers must satisfy the Group's requirements regarding social and ethical standards of conduct as well as conditions of employment including health & safety, wages, working hours, discrimination, harassment, and grievance mechanisms. Our Slavery and Human Trafficking Statement is in line with the UK's Modern Slavery Act (MSA) 2015.
Serving Our Customers Better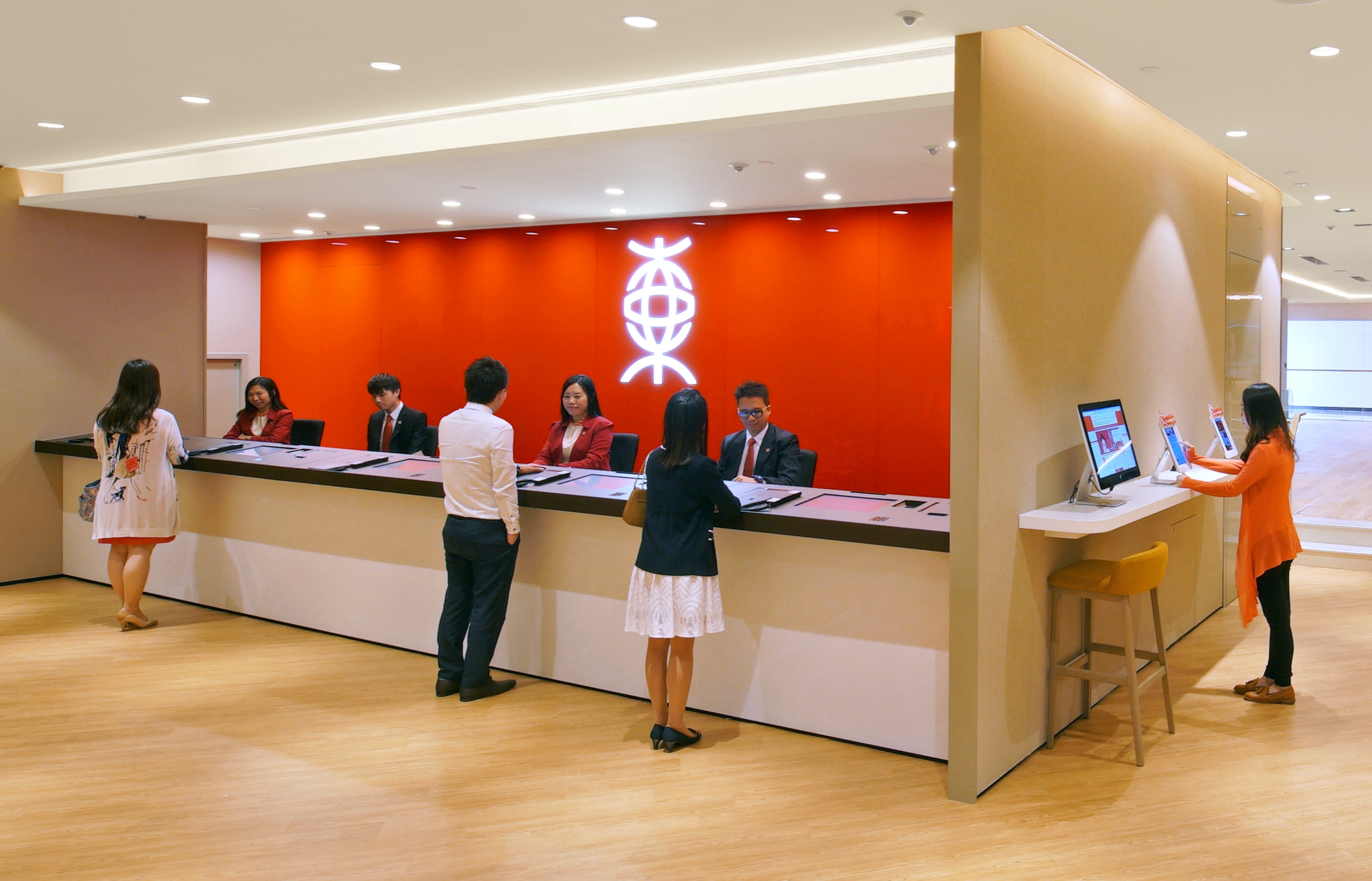 Customer focus is one of our core values. We put our customers first, knowing that our success depends on how well we anticipate, appreciate, understand, and satisfy their needs. We strive to make our facilities accessible to all customers, and we have comprehensive feedback and privacy policies in place to ensure that our customers' needs are considered at every opportunity.
Making our services accessible to all
BEA currently operates one of the largest branch networks in Hong Kong, covering the 18 districts across the city. As part of our commitment to serving the local community, we maintain an extensive presence in Hong Kong, covering more remote and sparsely populated areas, including outlying island locations such as Tai O and Silvermine Bay.
In 2017, BEA became the first bank in Hong Kong to fully digitalise its branch network. This was a major milestone in the evolution of our service delivery, demonstrating our dedication to increasing efficiency and convenience for our customers. In addition to benefitting our customers, our digital banking services benefit the local community as well: by adopting cutting-edge technology, transactions become a paperless workflow, generating less waste and reducing environmental impact.
Listening to customer feedback
Customers are invited to share opinions or suggestions in person or by letter, email, or telephone. We strive to address all concerns as quickly and efficiently as possible.
Ensuring customer privacy
The privacy of customer data is of the utmost importance to us. BEA has established an Information Security Policy and operates in accordance with Hong Kong's Personal Data (Privacy) Ordinance. For details, please refer to our Privacy Policy Statement and Personal Information Collection (Customers) Statement.
Delivering banking solutions for underserved groups
To help maximise the collection of charitable donations, BEA has worked with the Hong Kong Council of Social Services to develop Online Donations Services, which enable non-governmental organisations ("NGOs") to collect online donations by credit card. Online Donation Services have proven to be a highly effective way for NGOs to capture donation revenue, while reducing administration costs and optimising the use of manpower. In addition, all BEA account holders who have registered for the Bank's electronic banking service, Cyberbanking, can make one-time or regularly scheduled donations.
NGOs interested in learning more about Online Donation Services are welcome to call BEA's Customer Service Hotline on (852) 2211 1333.
Enhancing customer satisfaction
BEA recognises the importance of trust in maintaining a strong customer relationship, and we strive to ensure consumer protection at every stage. We are a signatory of the Treat Customers Fairly Charter endorsed by the HKMA. Our quest to ensure a positive customer experience is guided by ISO 10002 Quality Management: Customer Satisfaction. Applying this standard helps us to monitor trends, identify external and internal issues, and eliminate causes of complaints leading to continual improvement in our operations, products, and services.