Developing Our People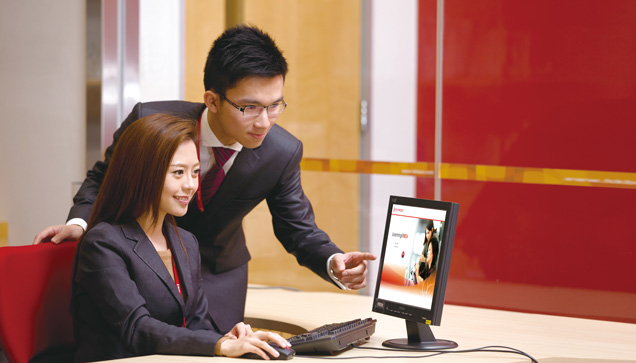 We at BEA regard our people as our greatest asset. We believe that to serve the needs of our customers and community effectively, all of our employees must have the opportunity to realise their potential. We therefore invest heavily in training and development. At the same time, we strive to ensure that our staff members can achieve a healthy work-life balance, and our volunteer team provides opportunities for our staff members to contribute to the local community.
Supporting the ongoing development of our staff
We foster a learning culture by providing a wide spectrum of training, ranging from technical know-how to the development of soft skills via different learning modes including classroom and our e-Learning platform, Learning@BEA.
To promote the continuous professional development of our staff, we support staff members in their pursuit of professional qualifications as guided by the HKMA's Enhanced Competency Framework.
We are committed to grooming young talent under various programmes, namely the Management, Corporate Banking, Operations, Relationship Manager, and Branch Operations trainee programmes. In addition, we have a talent development programme aimed at grooming mid-career high-potential staff members into future leaders. The programme provides a series of structured development interventions that support growth and career development, including on-the-job development, coaching and mentoring, and leadership training.
Making staff satisfaction a priority
Staff satisfaction is important to us. We gather the opinions of staff members through regular conversations including line management meetings and appraisals. We also conduct employee surveys to gauge employees' working experience at BEA. This enables us to enhance our work environment and bank culture, as well as to improve employees' job satisfaction and engagement.
Ensuring work-life balance
The Bank regards its staff as its most important asset. To help ensure the well-being of its people, the Bank has partnered with a professional consultancy to provide the Employee Assistance Programme ("EAP") for our staff members. EAP services include confidential support, advice, and counselling from a team of experienced social workers and counsellors via a 24-hour hotline.
BEA Tower includes numerous facilities that have been designed exclusively for our staff members. These include a state-of-the-art auditorium for training, a staff canteen, gym, and a relaxing rooftop garden.
Our Staff Sports and Recreation Club is operated by a committee comprised of representatives from different divisions. The Club is responsible for running a fully-equipped gymnasium in BEA Tower in Kwun Tong. The Club also organises various activities for staff members, which range from barbecues and local trips to arts and crafts workshops.
Conducting ongoing dialogue with staff members
We place great importance on open and effective dialogue with our staff. Each quarter, we conduct senior manager town halls led by our Co-Chief Executives, who ensure our team is kept abreast of the Group's performance and strategic developments. Information is cascaded through our organisation during Division-level town halls, which are organised throughout the year. In addition, we publish a staff e-newsletter four times a year. Our Senior Management Mailbox provides a further means for staff members to communicate their suggestions for positive change within the Bank.
Providing a comprehensive range of staff benefits
The health and well-being of our employees are important to the Bank. To attract, retain, and motivate highly qualified people, we constantly review and enhance the staff benefits in response to feedback we receive through our employee surveys, and we offer a comprehensive range of benefits to our employees. In addition, we provide competitive compensation and incentives to improve individual job performance.
Providing equal opportunities
We employ people with a variety of skills and from diverse professional and educational backgrounds. It is our strict policy to provide equal opportunities to all job applicants and staff members.
A goal of zero incidents in health and safety
Health and safety are part of every operation within BEA. Our goal is zero accidents and injuries. We operate a programme of safety and health inspections and education, and give appropriate safety training and education to all employees.