Latest Promotion
Fund Subscription Promotion on Cyberfund Centre
and BEA Mobile App*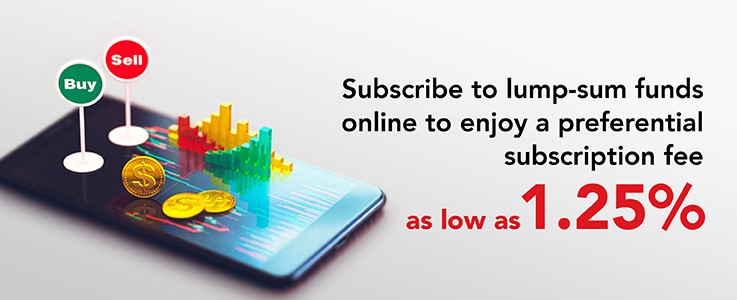 Start your fund investment journey with a time-limited subscription fee offer! Enjoy the preferential subscription fees below when you make a lump-sum fund subscription via the BEA App* or Cyberfund Centre:
Preferential fund subscription fees
SupremeGold /

SupremeGold Private Customers

Supreme/

BEA GOAL/

i-Account Customers

CorporatePlus

Customers

Fund subscription amount

equals or above HK$300,000 equivalent

per transaction



1.25%

1.50%

1.50%

Fund subscription amount

below

HK$300,000 equivalent

per transaction



1.50%

1.50%

1.75%
*BEA Mobile App is not applicable to CorporatePlus customers
All the products, services and offers above are subject to Terms and Conditions.
Enquiry Hotline 2211 1311
Important Notices:
Investment involves risks. The price of units may go down as well as up as the investments of a fund are subject to the market fluctuations and the risks inherent in investments. You should not make an investment decision based solely on this material.
Before making any investment, you should refer to all relevant investment fund offering documents, including but not limited to the Explanatory Memorandum, for detailed information including the risk factors.
The investment decision is yours but you should not invest in the investment funds unless the intermediary who sells it to you has explained to you that the investment funds are suitable for you having regard to your financial situation, investment experience, and investment objectives.
The funds may not be available in all jurisdictions and/or may be subject to restrictions. If you are in doubt, independent professional advice should be sought.
Fund investments are NOT principal-protected and you could lose all of your Investment Amount in the worst-case scenario. Please note that the risk factors mentioned are not, and do not purport to be, exhaustive.
This material has not been reviewed by the Securities and Futures Commission in Hong Kong.
The information provided in this promotional material is intended solely for informational purposes and does not constitute an offer, solicitation, invitation, or advice to subscribe to any securities or investment products.