【Linked Deposits Double Rewards】Trade via digital channels and enjoy up to HK$11,000 in rewards!
Want to diversify your portfolio in a volatile market?
The right linked deposits can help you hedge against currency fluctuations,
stock trends and interest rate volatility.
Linked deposits can also offer you a chance to earn higher interest income
compared to traditional time deposits, helping you easily seize market opportunities.
Complete linked deposit transactions for your chance to win fabulous prizes!
Reward 1
During the Promotion Period, enjoy a HK$100 cash reward
for every eligible linked deposit transaction*
you make via the BEA App or Cyberbanking –
up to HK$1,000 in cash rewards.
*Every eligible transaction amount is HK$50,000 (or equivalent) or above.
Reward 2
During the Promotion Period, accumulate HK$100,000 in any linked deposit transactions
made through below channels to get a lucky draw entry
for a chance to win up to HK$10,000 in Apple Store Gift Cards!

Participation Method
Accumulate HK$100,000 in Eligible Investment Transaction to get 1 lucky draw entry
Get a maximum of 10 lucky draw entries during the Promotion Period.
The more investment transactions you make,
the more lucky draw chances you'll receive!
Promotion Period: From 20thNovember, 2023 to 31stJanuary, 2024
3 types of linked deposits to help you achieve attractive potential returns
Enjoy a flexible investment period, select your own investment tenor from 1 week to 3 months

Choose from major currencies (e.g. HKD, USD, EUR, JPY, AUD, NZD, CNY, etc.)
Enjoy a flexible deposit period of 1-6 months to cater to your investment needs

Select from a wide range of HK-listed stocks, offering you the flexibility to invest in different industry sectors
Callable Interest Rate Index Linked Deposit#
With a chance to enjoy higher interest rates compared to traditional time deposits

Earn a coupon amount throughout the tenor period and receive 100% of the principal when you hold the product until maturity
#The above are brief descriptions of each product. For details, please refer to the principal brochure of each product.
How to view linked deposit coupon rates and place orders?
Start trading with the BEA App or Cyberbanking.
Capture more investment opportunities and unlock fabulous rewards!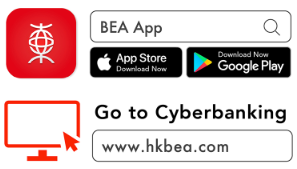 #The above products, services and offers are subject to the relevant Terms and Conditions. For details, please click here
Important Notices
Investment involves risks.
Linked Deposits are structured investment products involving derivatives
The investment decision is yours but you should not invest in the investment products unless the intermediary who sells it to you has explained to you that the investment products are suitable for you having regard to your financial situation, investment experience, and investment objectives.
Linked deposits are not protected deposits under the Deposit Protection Scheme or covered by the Investor Compensation Fund in Hong Kong.
Currency Linked Deposits and Equity Linked Deposits are not capital protected. In the worst case scenario, you could lose all of your Deposit Amount.
Please note that the risk factors mentioned are not, and do not purport to be exhaustive. You should not make an investment decision based solely on this material. Before making any investment, you should refer to all relevant offering documents for detailed information including the risk factors.
This material has not been reviewed by the Securities and Futures Commission in Hong Kong.
The information provided in this promotional material is intended solely for informational purposes and does not constitute an offer, solicitation, invitation, or advice to subscribe to any securities or investment products. If you are in any doubt, you should obtain independent professional advice.