Pre-approved Principal Payment Holiday Scheme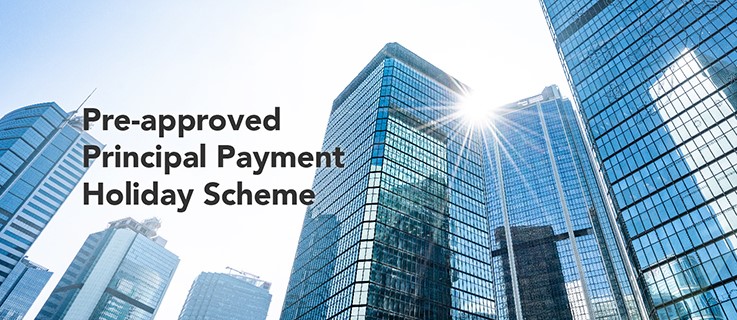 To provide relief to businesses affected by the outbreak of COVID-19, we are offering eligible corporate customers a pre-approved holiday on principal payments.
Covered Borrowers

Corporate customers which:

have, as an entity, an annual sales turnover of HK$800 million or less, according to their latest financial statement;
have no outstanding payments payable to the Bank which have been overdue for more than 30 days as at 1st May, 2020 1 (the launch date of the Scheme); and
are not in the process of ceasing operations or declaring bankruptcy or liquidation.

Payments Covered

Principal payments for all bilateral loans drawn before 1st May, 2020 1 that are due within 6 months of that date 2.

Payment Holiday

6 months beginning from the original due dates of the payments covered, except trade facilities - for which the payment holiday period is set at 90 days 1&3.

Hotline

2211 1469
Remarks:
1 Effective from 5th August, 2020, eligible trade loans drawn between 1st May and 31st July, 2020 are also covered. For trade facilities already subject to the scheme, the payment holiday period can be further extended for another 90 days. Corporate customers can apply for a 90-day trade loan extension if they had no outstanding payments overdue for more than 30 days as at 1st August, 2020.
2 Syndicated loans and loans financing the purchase of shares and other financial assets are not covered by the Scheme.
3 For facilities which are self-liquidating in nature, the Bank may require the loan to be settled when the underlying payment has been received by the covered borrower.