New Features and Recent Developments
Launch of Corporate Cyberbanking ("CCB") function – Cyberfund Centre
A brand new "Cyberfund Centre" service has been launched to CCB. With "Cyberfund Centre", you can access the following functions:
Fund portfolio and online trading
Order status and transaction history enquiry
Fund search and comparison
Market news and fund knowledge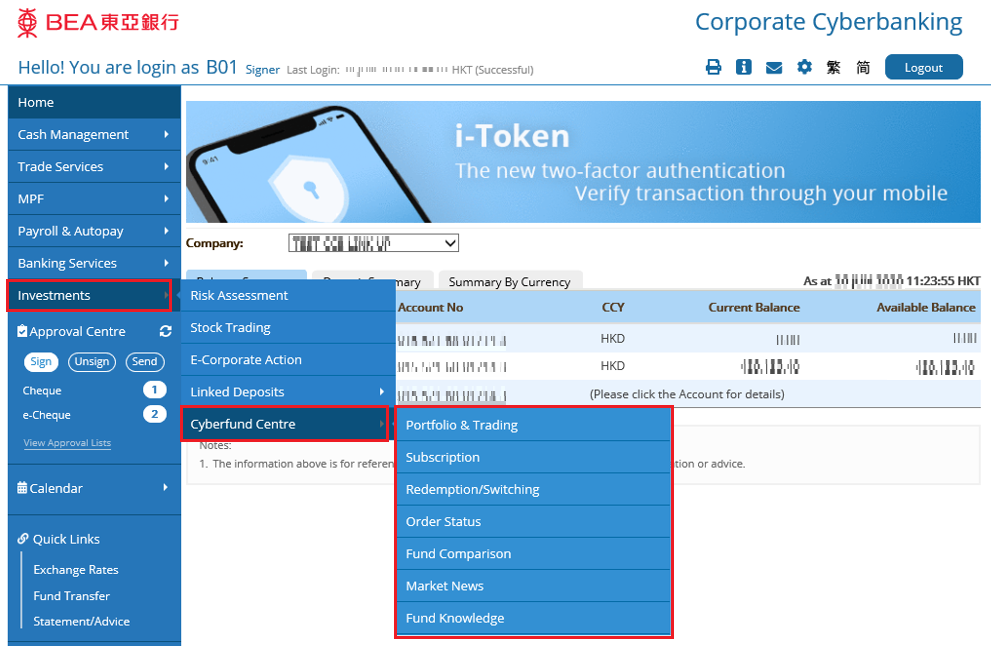 To access online trading function, you are required to:
hold a valid CorporatePlus Account with a CorporatePlus – Securities Account (hereinafter called "Securities Account"); and
authorise at least one CCB signer* to operate the Securities Account.
*CCB signer who has been granted full function access to CCB on or before 23 August 2020 will be able to access the online trading functions automatically. If you would like to disable the user access right of the CCB signer, you may do so through User Maintenance – Function Access Profile ("FAP") by your System Administrator at any time.
If you would like to apply for a Securities Account or change the setting for CCB signer(s), please contact your relationship manager or visit our branches.
Important Notes:
Investment involves risks. Before making any investment, you should refer to all relevant offering documents for detailed information, including the risk factors.
Corporate Cyberbanking & Corporate Mobile Banking - New Login Page Design
Corporate Cyberbanking has a new, more user-friendly login page. When you click on the "Personal Identification No. ('PIN')" field, an on-screen keyboard will appear underneath.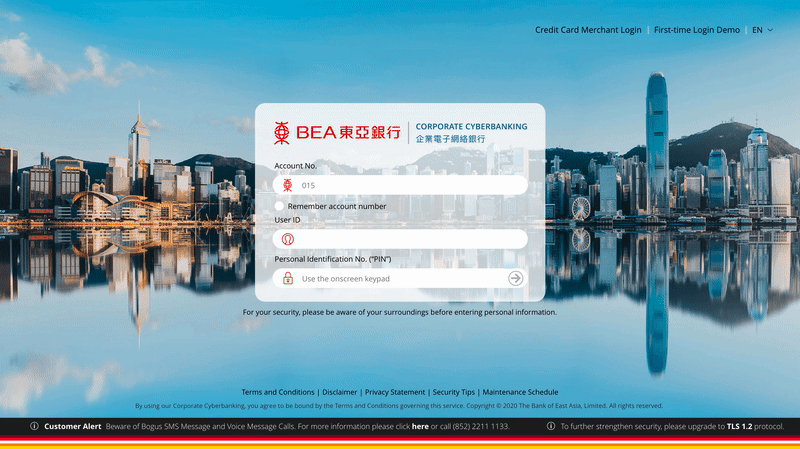 Corporate Mobile Banking also has a new login page, providing a smoother login experience.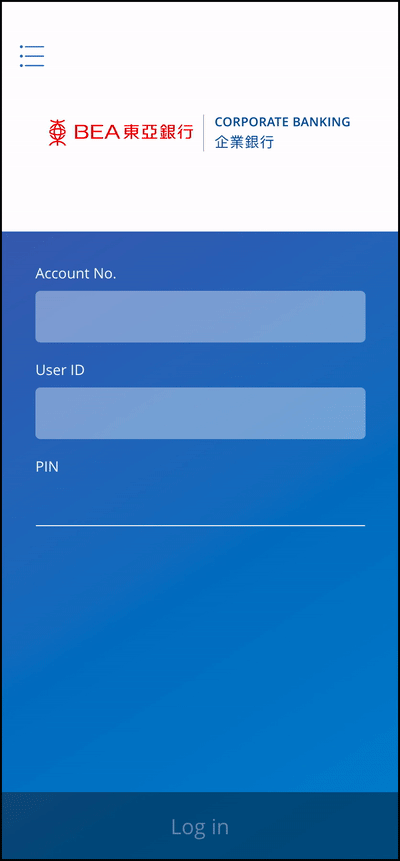 View Transaction History and Download Records
To give you easier access to your account history, there are a number of updates to the "Account Enquiry" function in Cash Management:
"History" and "Today's Activity" functions have been combined into a single function named "Transaction History".
Transaction records can be downloaded in a CSV (.csv) file.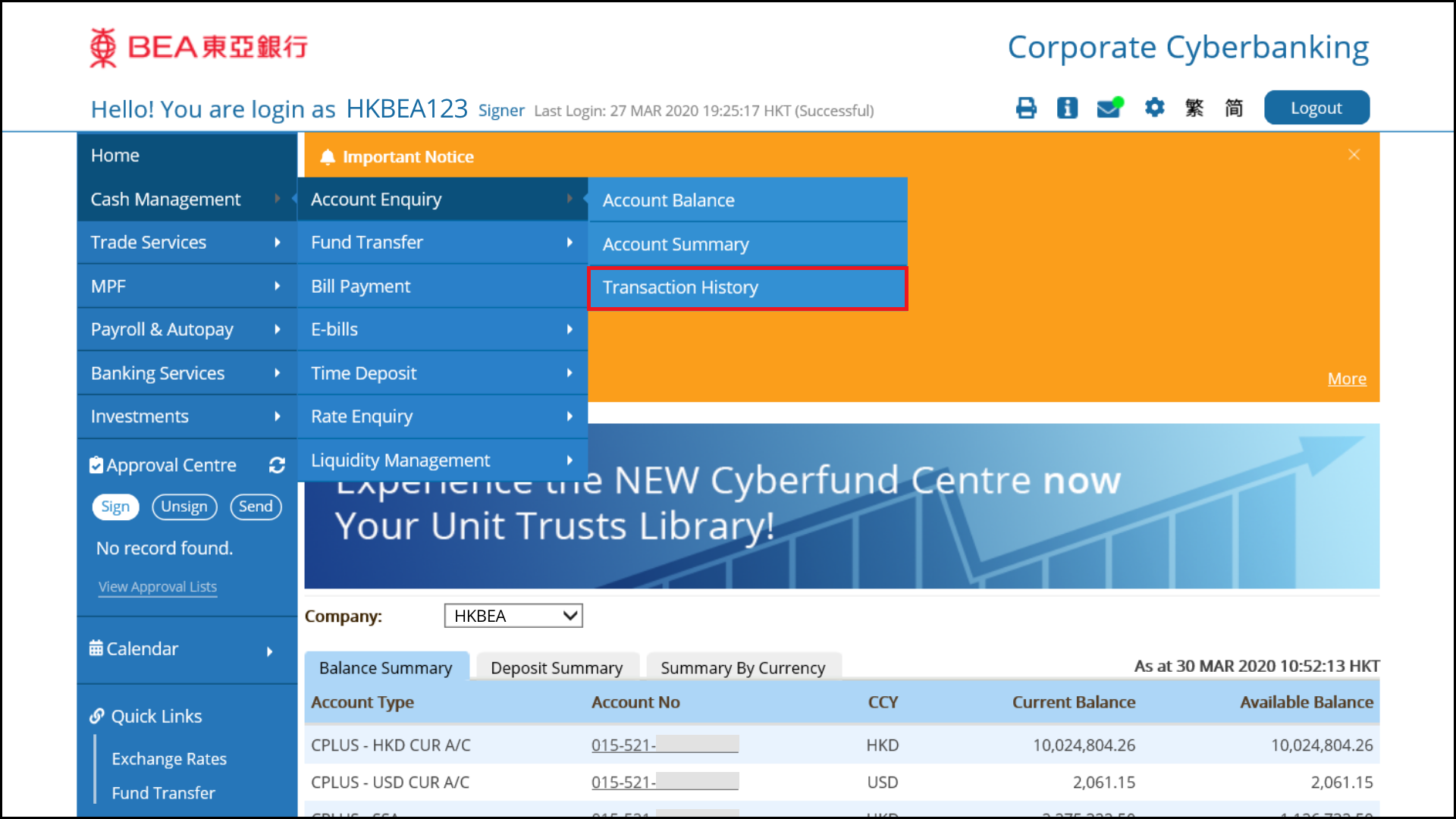 New Design of Corporate Cyberbanking Homepage
Our Corporate Cyberbanking homepage has been updated with a new design to improve your online banking experience.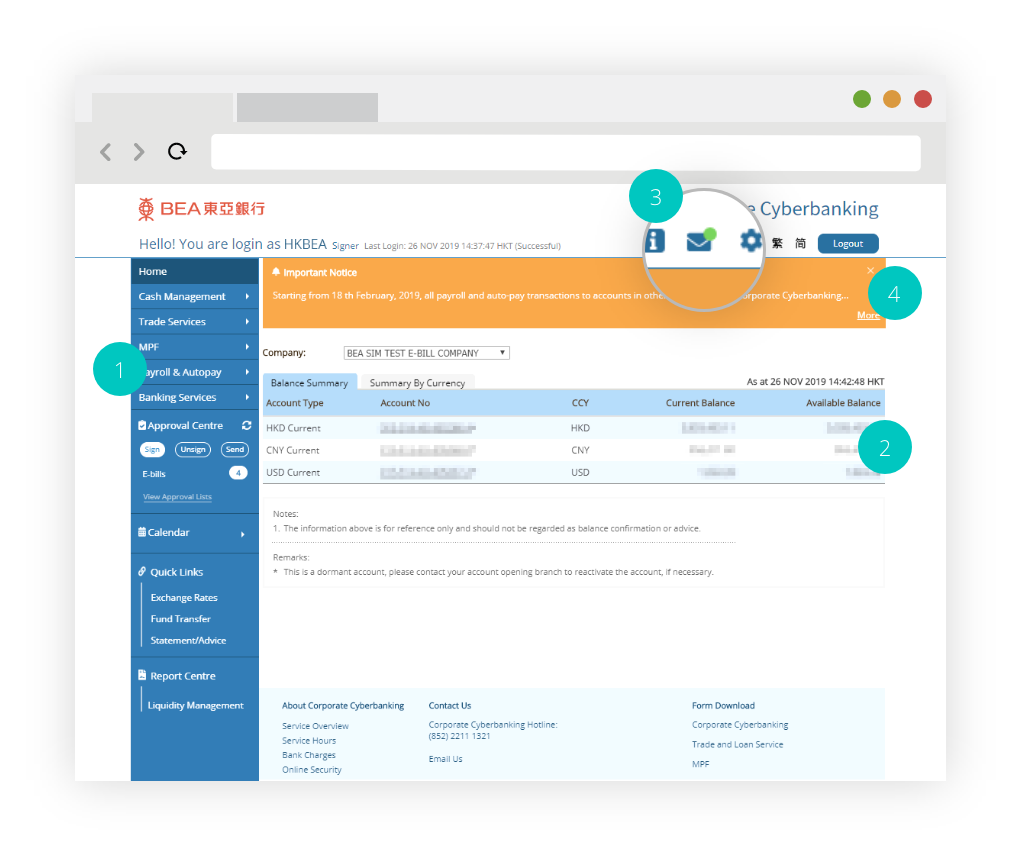 The enhanced homepage includes a number of new features:
1. A handy navigation panel with an expandable calendar and quick-links for your convenience.
2. An all-in-one account overview of your Balance and Deposit summaries on the homepage.
3. Immediate access to Print, Information, Mailbox with notification badge, Language, and Settings.
4. A prominent Important Notice board showing the latest information and security updates.
Strengthened Security for Internet and Mobile Banking
To enhance your online security and provide a better customer experience, with effect from 16th July, 2018 (the Effective Date), the following changes will be made to Corporate Cyberbanking (CCB) – Internet and Mobile Banking:
1. Mobile Banking Login
Your existing Mobile Banking password will become invalid, and you will be required to use your CCB account number, User ID, and personal identification number (PIN) when you log in to Mobile Banking.
2. Internet Banking Login
You will be required to set a strong password which is at least 8 characters long and contains a mix of numbers and letters. If your existing PIN does not meet this strength, you will be prompted to update it when you first log in to CCB from the Effective Date onwards.
3. Email Notifications
You will receive an email notification at your registered email address for CCB when performing any of the activities below through CCB – Internet. If you have not registered your email address with the Bank, you will be required to provide an email address for receiving notifications when you perform any of the following activities through CCB from the Effective Date onwards:
Log in to investment services1
Perform investment transactions
Reset your password
Change your account information (e.g. company email address, signer's email address and mobile phone number, etc.)
To register or update your mobile phone number or your email address for stock trading, please visit any of our branches.
| | |
| --- | --- |
| 1 | Investment services include stocks and linked deposit-related services. |



Deposit Card
The deposit card enables you to deposit cash or cheques quickly and easily through BEA ATMs in Hong Kong. For details, please click here.


e-Cheque Services
You can now settle/collect bills or make payments simply and contribute towards environmental protection using our brand new online e-Cheque service. Allowing you to view your consolidated balance at a glance, this new service enables smooth and straightforward management of corporate finances. Make life easier by going green!
| | |
| --- | --- |
| | Convenience |
| | Issue and deposit cheques electronically anytime, anywhere |
| | |
| --- | --- |
| | Stringent security |
| | Every e-Cheque is digitally signed using Public Key Infrastructure ("PKI") technology and two-factor authentication to confirm the identity of the user |
| | |
| --- | --- |
| | Environmental friendly |
| | Reduce paper usage by switching from paper cheques to e-Cheques |
| | |
| --- | --- |
| | Quick and simple |
| | Issue an e-Cheque in just a few clicks |
Experience our fast and convenient e-Cheque service now!


E-Corporate Action
BEA's E-Corporate Action Service greatly simplifies submitting instructions and speeds up sending replies. Using our Corporate Cyberbanking service, you can obtain lists of Corporate Actions from the most recent to the oldest on record, and submit instructions for various corporate actions using E-Corporate Action.
| | |
| --- | --- |
| | Convenient and Efficient |
| | Instructions can be submitted online, cutting out the need for letters; the whole process takes just a few minutes. |
| | |
| --- | --- |
| | Reliable |
| | Submitting instructions through E-Corporate Action prevents issues with lost mail. |
| | |
| --- | --- |
| | Real-Time Information |
| | Provides the latest news on Corporate Actions. |
| | |
| --- | --- |
| | Record Keeping |
| | All submitted instructions can be viewed under the History section. |
To learn more, simply select a feature and view the online demonstration.
E-bill Service for Merchants
BEA's Electronic Bill Presentment and Payment ("EBPP") Service helps your company optimise the bill payment collection process to reduce operation cost. Your customers can enrol for your e-bills through any internet banking service1. Then, you can send e-bill summaries to your customers and collect their payments via Corporate Cyberbanking.
| | |
| --- | --- |
| | Attractive pricing offers |
| | Enjoy attractive bill payment collection pricing offers2 |
| | |
| --- | --- |
| | Convenient |
| | Collect bill payments and donations in HKD, RMB, or USD from multiple channels |
| | |
| --- | --- |
| | Save costs |
| | Save printing and mailing costs of paper bills by adapting e-bill services |
| | |
| --- | --- |
| | Eco-friendly |
| | Reduce paper consumption by switching from paper bills to e-bills |
Simply visit any BEA branch to open a CorporatePlus Account and register for the EBPP Service!

1 Please visit http://www.hkicl.com.hk for a list of participating merchants and banks. The list is subject to change without prior notice.
2 Applicable to designated merchants and charity organisations.
Paper Statement Opt Out
To protect our environment and make use of e-Statement to reduce the hassle of receiving paper statement, you can register Paper Statement Opt Out service through the Statement Options Maintenance page.

Please register for Paper Statement Opt Out service now!

Notes:
1. Once you register for the service, the new settings of Opt Out Paper Statement will automatically apply to the coming cycle statement for all related accounts. You can modify the statement through the Statement Options Maintenance page.
2. For more information, please call our Enquiry Hotline on (852) 2211 1321.