BEA App – Comprehensive Wealth Management Functions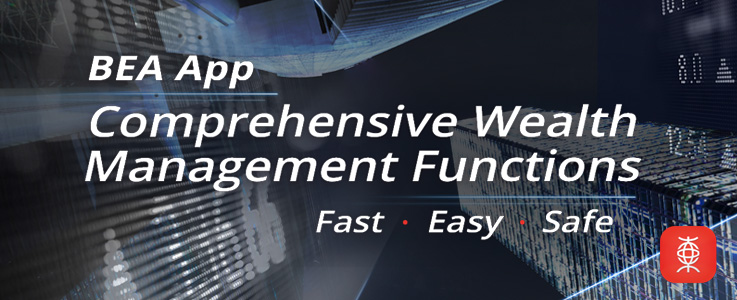 Investment requires vision and speed. BEA App's easy-to-use interface enables you to rapidly carry out a wide range of wealth management functions anytime, anywhere. Take full control of your funds in the investment world, where every second counts!
Plus, our "Market Outlook Video" provides helpful market analysis, allowing you to make informed decisions!
BEA App Comprehensive Wealth Management Functions

Unit Trusts

(Cyberfund Centre) <NEW>

Linked Deposits

(various types) <NEW>

Time Deposits <NEW>

Stock Trading
Currency Exchange
Gold Trading
FX & Precious Metal Margin Trading
BEA App Investment Offers

Unit Trusts

Stock

FX & Precious Metal Margin Trading
Discover The Latest Market Insights
Click here to watch our Market Outlook video now and gain perspective for your future plans!

Want to understand or update your risk tolerance level? Now you can log in to the BEA App and complete a risk assessment questionnaire directly – no need to visit a branch!
---
Check out the BEA App's comprehensive wealth management functions now to seize every investment opportunity!
Download/Open BEA App
How to log in to Mobile Banking
Important Notes
Investment involves risk. Before making an investment decision, you should refer to the relevant investment product offering documents for detailed information including the risk factors. This material has not been reviewed by the Securities and Futures Commission in Hong Kong. The prices of securities may move up or down, and may even become valueless. There is an inherent risk that loss may be incurred rather than profit gained as a result of buying and selling securities. Investors should read the relevant Risk Disclosure Statement and relevant documents before making any investment decision.
Linked deposits are structured products involving derivatives. The investment decision is yours, but you should not invest in linked deposits unless the intermediary who sells them to you has explained to you that the linked deposits are suitable for you in light of your financial situation, investment experience, and investment objectives. Linked deposits are not equivalent to time deposits and are not protected deposits under the Deposit Protection Scheme.
The risk of loss in precious metal/foreign exchange margin trading can be substantial. You may sustain losses in excess of your initial margin funds.
The information provided in this page is intended solely for informational purposes and does not constitute an offer, solicitation, invitation, or advice to subscribe to any securities or investment products.